AuDacity 2017 Conference

September 25-27, 2017
Mohegan Sun Resort
Uncasville, Connecticut
AuDacity Presentations
How Leaders Maximize Emotional Intelligence and Inclusion to Inspire, Influence and Achieve Results: Sylvia Baffour
Clinical Grand Rounds: Neil Wright, Au.D., Shreemanti Chakrabarty, Au.D., and Deb Abel, Au.D.
The Role Your Staff Plays in Patient Conversion: Randy Baldwin, Vice President of Marketing, CareCredit; Tina Soika, President, American Hearing Aid Associates; and Von Hansen, Founder, Von Hansen Training
Diabetic Ear Disease: Moving from a Retail to Medical Model of Care: Kathy Dowd, Au.D.
The Business of Balance: Richard Gans, Ph.D. and Sara Jagger, Au.D.
Innovating with Empathy to Improve Hearing Healthcare: Aaron Jones, Au.D., MS, CCC-A
Managing Practice Change in Disruption: Barry J. Barresi, OD, PHD; Alicia Spoor, Au.D.; and Patricia Takacs, DMD
Today's Disruption Brings Tomorrow's Opportunities: Rick Musselman
Hearables Now and Later: A Review of the Products of Today and Tomorrow from CES 2017 : Dan Quall, MS
AuDacity Exhibitors
AHAA
Allegro Credit: AllWell Financing
American Institute of Balance
Audigy
Audiology Awareness Campgain
Audioscan
Audit Data
Black and Black Surgical
Bose
CaptionCall
CareCredit
clEAR
Clear Digital Media
Cochlear Americas
CounselEAR
Doppler Labs
EarQ
Ear Technology Corporation
earVenture
Entheos Audiology Cooperative
Etymotic Research, Inc.
Fuel
FYZICAL Therapy and Balance Centers
Grason-Stadler
Hal-Hen Company, Inc
Hamilton CapTel
Hearing Healthcare News
JedMed
Listen Technologies
Med-EL Corporation
MG Development
MiraCell
Nuheara
Nupur Technologies LLC
Oaktree Products
Otometrics/Audiology Systems
Phonak
Results Only Consulting and Advertising
Sonic
Spectrum Brands / Rayovac
Sprint CapTel
Unitron
Wells Fargo
Wolters Kluwer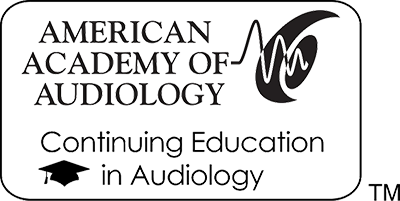 The Academy of Doctors of Audiology is approved by the American Academy of Audiology to offer Academy CEUs for this activity. This program has been approved for 2.05 CEUs / 1.25 Tier 1 CEUs. Academy approval of this continuing education activity is based on course content only and does not imply endorsement of course content, specific products, or clinical procedure, or adherence of the event to the Academy's Code of Ethics. Any views that are presented are those of the presenter/CE Provider and not necessarily of the American Academy of Audiology.
Please Note: The icon indicates a MEMBERS ONLY resource. Please login to have access to this resource, or join ADA and have access to all of the member resources.
Schedule At-A-Glance
Sunday, September 24, 2017

8:00 AM - 5:00 PM

Pre-Conference Session: Boot Camp Event - Most Requested Topics in Coding, Reimbursement, Managed Care and Pricing

Kim Cavitt, Au.D.

8:00 AM - 5:00 PM

Pre-Conference Session: Bringing Balance Back: The Seven Rules of a Successful Balance Practice (Part 1)

Richard E. Gans, Ph.D
Darren Kurtzer, Au.D.
Sara Jagger, Au.D.
Monday, September 25, 2017

8:00 AM - 12:00 PM

Pre-Conference Session: Bringing Balance Back: The Seven Rules of a Successful Balance Practice (Part 2)

Richard E. Gans, Ph.D
Darren Kurtzer, Au.D.
Sara Jagger, Au.D.

8:00 AM - 12:00 PM

Pre-Conference Session: OTC Symposium

1:00 PM - 4:30 PM

Audigy Student Session

1:00 PM - 4:00 PM

Advanced Cerumen Management Lab

Rita Chaiken, Au.D.
Jiovanne Hughart, Au.D.

1:00 PM - 2:30 PM

The Legislative Landscape

Panel Discussion

2:45 PM - 4:15 PM

A Patient Centered Approach to Industry Disruption, Part 1

Kim Cavitt, Au.D.

1:00 PM - 2:30 PM

OTC Hearing Aids: Everything Old Is New Again

Mead C. Killion, Ph.D. Sc.D.

2:30 PM - 2:45 PM

Break

2:45 PM - 4:15 PM

A Patient Centered Approach to Industry Disruption, Part 2

Kim Cavitt, Au.D.

2:45 PM - 4:15 PM

Build Practice Success Through Real Ear Measurement

Amyn Amlani, Ph.D.
John Pumford, Au.D.

2:45 PM - 4:15 PM

Innovating with Empathy to Improve Hearing Healthcare

Aaron Jones, AuD, MS, CCC-A

5:00 PM - 8:00 PM

Dinner in the AuDacity Marketplace

(All attendees invited)
Tuesday, September 26, 2017

7:00 AM - 8:00 AM

Breakfast in the AuDacity Marketplace

8:00 AM - 8:30 AM

Welcome & President's Address

Angela Morris, Au.D.

8:30 AM - 9:30 AM

Keynote Presentation: How Leaders Maximize Emotional Intelligence and Inclusion to Inspire, Influence and Achieve Results

Sylvia Baffour

9:30 AM - 10:00 AM

Break in the AuDacity Marketplace

10:00 AM - 11:30 AM

Featured Presentation: The Role Your Staff Plays in Patient Conversion

Randy Baldwin, Vice President of Marketing, CareCredit

11:30 AM - 1:00 PM

Lunch in the AuDacity Marketplace

1:00 PM - 2:30 PM

General Session: The Business of Balance

Richard Gans, Ph.D.
Sara Jagger, Au.D

2:30 PM - 3:00 PM

Break in the AuDacity Marketplace

3:00 PM - 4:30 PM

Panel Session: Managing Practice Change in Disruption

5:00 PM - 6:00 PM

Reception in the AuDacity Marketplace
Wednesday, September 27, 2017

7:00 AM - 8:00 AM

Membership Meeting with Breakfast

8:00 AM - 9:30 AM

Co-Managing Comorbidities in the Audiology Private Practice, Part 1

Victor Bray, Ph.D.

Clinical Grand Rounds

Various Speakers

Optimizing Third-Party Payer Reimbursements

Deb Abel, Au.D.

9:30 AM - 9:45 AM

Break

9:45 AM - 11:15 AM

Co-Managing Comorbidities in the Audiology Private Practice, Part 2

Victor Bray, Ph.D.

Sound-Quality Ratings of Traditional and Over-the-Counter Amplification Products Obtained Under Real-World and Laboratory-Listening Conditions

Amyn Amlani, Ph.D.

Marketing Grand Rounds

Various Speakers

11:30 AM - 12:30 PM

Luncheon Presentation: Using Big Data and Benchmark Metrics to Become a Best in Class Practice

Jason Mayer and Craig VanDeVelde, Phonak

12:45 PM - 1:45 PM

Managing and Utilizing Patients' Post-Trauma Anxiety About Hearing Loss: A Rationale for Audiology-Psychology Collaboration, Part 1

Michael Harvey, Ph.D.
David Citron, Ph.D.

Hearables Now and Later: A Review of the Products of Today and Tomorrow from CES 2017

Dan Quall

Heroes With Hearing Loss - Treating Our Nation's Veterans

Sean Lehman MSgt, USAF, Ret.

1:45 PM - 2:00 PM

Break

2:00 PM - 3:00 PM

Managing and Utilizing Patients' Post-Trauma Anxiety About Hearing Loss: A Rationale for Audiology-Psychology Collaboration, Part 2

Michael Harvey, Ph.D.
David Citron, Ph.D.

Today's Disruption Brings Tomorrow's Opportunities

Rick Musselman

Drug Side Effects on Audiological and Vestibular Testing

Robert DiSogra, Au.D.

3:00 PM - 3:15 PM

Break

3:15 PM - 4:15 PM

Managing and Utilizing Patients' Post-Trauma Anxiety About Hearing Loss: A Rationale for Audiology-Psychology Collaboration, Part 3

Michael Harvey, Ph.D.
David Citron, Ph.D.

Diabetic Ear Disease: Moving from a Retail to Medical Model of Care

Kathy Dowd, Au.D.

Blame It on the Caves: Tinnitus, Hyperacusis, Misophonia, Phonophobia

Natan Bauman, Ed.D, M.S., Eng., FAAA