AuDacity 2018 Conference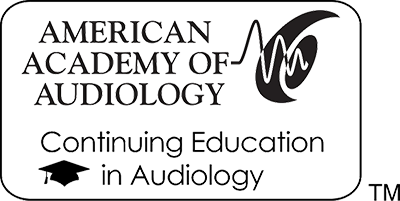 The Academy of Doctors of Audiology is approved by the American Academy of Audiology to offer Academy CEUs for this activity. The program is worth a maximum of 2.05 CEUs/.6 Tier 1 CEUs. Academy approval of this continuing education activity is based on course content only and does not imply endorsement of course content, specific products, or clinical procedure, or adherence of the event to the Academy's Code of Ethics. Any views that are presented are those of the presenter/CE Provider and not necessarily of the American Academy of Audiology.
AuDacity 2018 is bolder than ever! Join us for 3 days packed with courses distinctly designed to deliver relevant information and resources to audiologists in autonomous practice. Network boldly—AuDacity offers plenty of opportunities to eat, drink, and be amazed by the more than 50 exhibiting companies dedicated to helping practices and their patients succeed.
Schedule At-A-Glance
Monday, October 22, 2018

8:00 AM - 4:15 PM

Managing Co-Morbidities Symposium

An overview of systems and documentation will be presented followed by information-packed sessions on the following co-morbidities: udiovestibular, brain/neurologic, cardiopulmonary, diabetes, oncology, and renal failure. Find out everything that you need to know when managing patients with comorbidities.

Victor Bray, Ph.D.
David Zapala, Ph.D.
Nicholas Reed, Au.D.
Michelle McElhannon, Pharm.D.
Christopher Spankovich, Au.D., Ph.D., M.P.H.
Richard Gans, Ph.D.
Carol Knightly, Au.D.

4:30 PM - 5:30 PM

Standards and Accreditation for the Audiology Practice

Angela Morris, Au.D.
John Coverstone, Au.D.
Patricia Gaffney, Au.D.

4:30 PM - 5:30 PM

IP Captioned Telephone Services and the Federal Communications Commission

5:30 PM - 8:00 PM

Opening Event in Exhibit Hall
Wednesday, October 24, 2018

7:00 AM - 8:00 AM

Member Breakfast

8:00 AM - 9:30 AM

Relationships, Referrals and Resources: Best Practices in Physician Engagement

Thomas J. Tedeschi, Au.D., Moderator
Robert Tysoe, BSc.
Maryann Nikander, Au.D.
Stacy O'Brien, Au.D.
Nicole Pavol
Physician Panelists

The End of Business as Usual: Three Tangible Skills for Long-term Success in Audiology

Tinnitus Care for Your Patients Part 1: Marketing Tinnitus Specialty Care to Grow Your Practice

9:30 AM - 9:45 AM

Break

9:45 AM - 11:15 AM

The Good, the Bad and the Ugly: Externs and Private Practice

Positioning Professional Care Value Through Innovative Practice Strategies

Tinnitus Care for Your Patients Part 2: Streamline Tinnitus Treatment in Your Busy Practice

11:15 AM - 1:00 PM

1:00 PM - 2:00 PM

Expanding the Patient Journey (and the Practice) with Hearables

Optimizing Third-Party Reimbursements

2:00 PM - 2:15 PM

Break

2:15 PM - 3:15 PM

Telehealth: Shifting the Paradigm to Improve Access to Care

What the Future Holds for Practice Ownership

Moderator: Craig Castelli
Panelists: Brian Vesely, Au.D.
William Diles, M.A.
Elizabeth Rogers, Au.D.
John Hartman, MA

3:15 PM - 3:30 PM

Break

3:30 PM - 4:30 PM

Practice Trends: Hearing Health Care or Consumer Electronics?

The Future of Digital Marketing & Local Search to Generate Quality Leads