Dr. David Akbari Receives Prestigious ADA Hearing Industry Leadership Award
FRANKFORT, Ky. — The Academy of Doctors of Audiology (ADA), the leading national audiology association dedicated to autonomous practice, has named David Akbari, Au.D., Senior Medical Science, clinical and Regulatory Affairs Liaison at Intricon Corporation, as the recipient of the prestigious ADA Hearing Industry Leadership Award.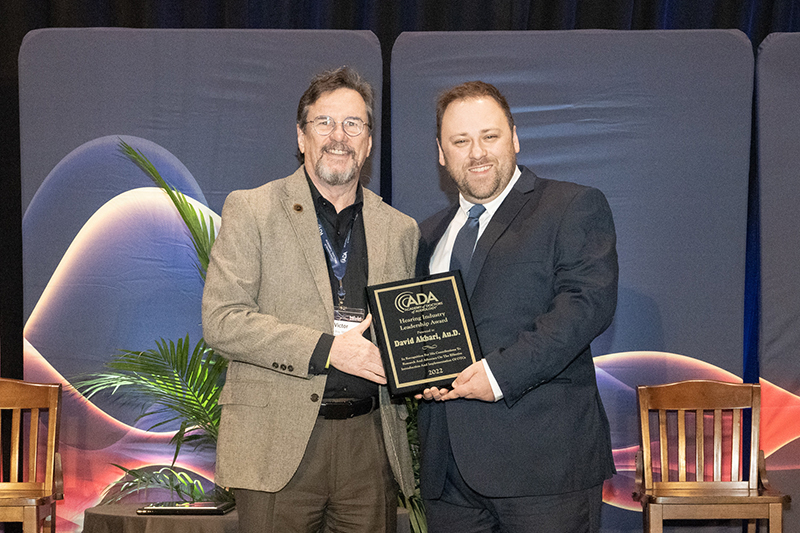 "Dr. Akbari is a visionary leader who has made significant contributions to the hearing industry over the past several years," said ADA President, Kristin Davis, Au.D. "During his volunteer service as a member of the ADA Over-the-Counter (OTC) Hearing Aid Working Group, Dr. Akbari provided invaluable technical and scientific expertise to help formulate ADA's recommendations to the U.S. Food and Drug Administration in response to its Proposed Rule Establishing Over the Counter Hearing Aids, many of which were adopted by the agency."
Dr. Akbari's service to the hearing industry is not limited to OTC hearing aids. He currently serves as Chair of the ANSI/ASA/SE/WG48 Working Group, where he leads a vibrant group of scientists at the core of innovation and leadership in developing standard measures for testing hearing aids.
"I am deeply honored and humbled to be recognized by the ADA for this award," said Dr. Akbari, whose work at Intricon is part of the company's 45-year legacy in improving people's lives with sensor-enabled micromedical devices. "I am deeply thankful for the ADA's leadership clarity through the uncertainty of many competing interests in the public policy debate to arrive at evidence-based outcomes for the benefit of all. We find ourselves entering into a new golden era in hearing healthcare, thanks in large part to forward-looking leaders like those at the ADA. Thank you for your leadership, and for the opportunity to join you in reimagining the future."
About the Academy of Doctors of Audiology and the Hearing Industry Leadership Award
The Academy of Doctors of Audiology (ADA) is dedicated to the advancement of practitioner excellence, high ethical standards, professional autonomy, and sound business practices in the provision of quality audiologic care. The ADA Hearing Industry Leadership Award recognizes an individual or organization for outstanding achievements that elevate or advance the hearing industry. For more information, visit www.audiologist.org.
###