Student Chapter
Purpose
The purpose of the ADA Student Academy of Doctors of Audiology (SADA) is to serve the varied needs and concerns of student and emerging graduated members of ADA. SADA will collaborate with the ADA Board of Directors, ADA committees and others to develop educational resources and programming for students, participate in advocacy initiatives to advance student interests, and disseminate relevant information to students.
Structure
In accordance with the guidelines established for the Academy of Doctors of Audiology, SADA will be supported by the SADA Council. The Council will be comprised of a minimum of nine (9) ADA Student Members, who will serve for a one-year term, and who may be eligible for re-appointment. SADA Council Members are expected to attend monthly Council meetings via teleconference (every attempt will be made to schedule them at a time convenient to all) , to participate in Council projects by providing insight and expertise, and to support the mission and objectives of ADA and its student members. Note: We do recognize that university requirements and student obligations may prevent participation, particularly at certain times during the year.
President
Shannon is a second year doctoral audiology student at A.T Still. She hopes to have her own private practice and specialize in tinnitus. She advocated for underserved communities through her time as the coordinator for the intern team at United Nations Association San Diego. She is ArSHA's 2021 Outstanding Graduate Student and enjoys inspiring students to believe in themselves. As President of SADA, she is excited to further advocate for our profession and share legislation updates.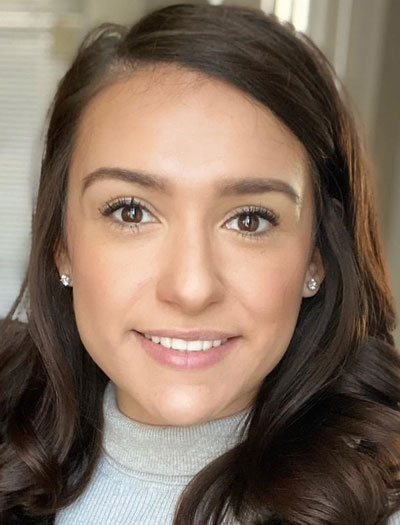 Vice President
Tamahra is a second-year Au.D. student at A.T. Still University in Mesa, Arizona with an undergraduate degree in Speech and Hearing Sciences from Arizona State University. One of Tamahra's goals is to own her own private practice and be able to advocate and serve the Latino community amongst other underserved communities. Tamahra's interests include geriatrics, pediatrics, cochlear implants, and intraoperative monitoring. In her spare time, Tamahra enjoys spending time with her family, hiking, weight training, and reading.
Advocacy Chair
Thomas is a second year Au.D. student at A.T. Still University in Mesa, Arizona. Thomas obtained his undergraduate degree of Speech and Hearing Sciences at The Ohio State University in Columbus, Ohio. During his undergraduate and post undergraduate days, Thomas volunteered at an Aphasia clinic as well as worked as a Medical Assistant across several providers. His main passion for becoming an audiologist is to help others like him who also have hearing losses. He also hopes to put his bilingual background to use in future clinics to provide care for more people. In his spare time, Thomas likes to dance, play video games and spend time with his cat, Atlas.
Communications Co-Chair
Kristen is a second year Au.D student at Wayne State University, located in Detroit, Michigan. She is currently finishing up her clinical rotations through the various Henry Ford Hospitals and will be starting her new placement at C.S. Motts Children's Hospital this spring. Her main interests in the field are: electrophysiology, vestibular audiology and rehabilitation with an interest in having her own private practice. When she isn't occupied by school, Kristen enjoys travelling, hiking, working out and playing the piano.
Communications Co-Chair
Pavan is a first year student Doctor of Audiology at A.T. Still University in Mesa, Arizona. She has volunteered for speech and hearing clinics in Orange County, California. Her interests include Pediatric Audiology, electrophysiological measures of the vestibular system and aural rehabilitation. In her spare time, she enjoys Indian classical dancing and singing, as well as playing the Sitar.
Education Co-Chair
Mariel is a 2nd year student doctor of Audiology at A.T. Still University- Arizona School of Health Sciences. She graduated with her undergraduate degree from San Francisco State University, where she co-founded the SFSU Operation Smile club. Mariel currently serves in the United States Army Reserves and intends to continue her service upon graduation. Her interests include networking, serving her community, and loves learning all areas of Audiology. In her down time she spends time with her husband and dog Harper at various dog parks, plays piano, practices jiu-jitsu, and is currently learning how to play the saxophone.
Education Co-Chair
Haley is a first year student at A.T. Still University in Mesa, Arizona. She was born and raised in Wasilla, Alaska and received her bachelor's degree in Communication Sciences and Disorders from Idaho State University. Her interests include cochlear implants and intraoperative monitoring. During her free time, Haley enjoys exploring new towns and cities. She looks forward to being involved with SADA and working with her co-chair.
Fundraising Chair
Ivelca is a second-year AuD student at Salus University. She worked as a medical assistant for an ENT practice in NY for six years. Her bachelor's degree in Speech and Hearing Sciences was earned at Arizona State University. She enjoys spending time with her family and friends. She is a husky and plant mom. Her future plans in audiology include working in an ENT or hospital setting with a focus on geriatrics, vestibular disorders, and cochlear implants.
Membership Chair
Jasmin is a third-year AuD student at California State University Northridge (CSUN). She is involved in local and national student organizations in the profession. Her current role as President of her local SAA chapter and Member at Large for National SAA inspired her to take another position in SADA. She is interested in private practice eventually specializing in Tinnitus. She is dedicated to spreading awareness and advancement of those who have an interest in the career of Audiology. When she is away from the books, her hobbies include dancing, meditating, running, and trying new foods.
Student AuDioGram Archive