ADA
Amplifon
Amplify Hearing
Amplivox
Amptify
Audigy
Audioscan
Black and Black Surgical
CareCredit
Cochlear
Cognivue
CounselEAR, LLC
CQ Partners
Eargo, Inc.
EntreAudiology
Eosera, Inc
Grason-Stadler
Hamilton CapTel
HearVu
HearWorks
InnoCaption
Interacoustics
KC Consulting
Levo Medical
MAICO Diagnostics
NationsBenefits
Nupur Technologies, LLC
Oaktree Products
Phonak
ReSound
Review Wave
SafKan Health
Signia
SOUNDWRX INC
Sycle
The American Institute of Balance
Tuned
Unitron
Warner Tech-care Products
WEAVE
Westone Laboratories
Widex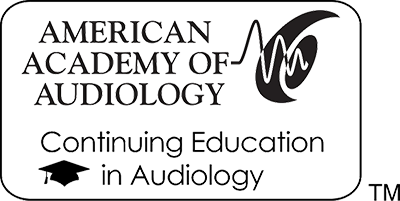 Academy of Doctors of Audiology is approved by the American Academy of Audiology to offer Academy CEUs for this activity. The program is worth a maximum of 2.4 CEUs. Academy approval of this continuing education activity is based on course content only and does not imply endorsement of course content, specific products, or clinical procedure, or adherence of the event to the Academy's Code of Ethics. Any views that are presented are those of the presenter/CE Provider and not necessarily of the American Academy of Audiology.
2.25 ABA Tier 1 CEUs are available.